How powerful would it be if you reviewed AND took steps towards your goals DAILY?

Utilizing the Toyota Kata methodology, we are reviewing your Challenge and Target Condition daily.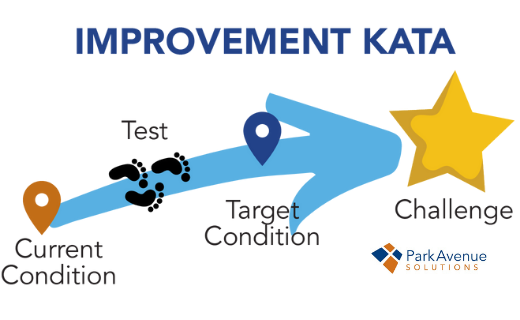 Anyone who wants to develop the habit and skills of continuously improving daily actions can use Kata.
Various manufacturing industries utilize the Kata methodology. Although Toyota Kata was developed to emulate Toyota's Manufacturing culture, like the Lean Tools, it easily adapts to non-manufacturing industries.
The Healthcare industry quickly embraced and has advanced using the Kata methodology. Agile Software Development can also use Kata for Agile Retrospectives. The opportunity exists to deploy Kata for startup businesses to drive progress and accountability.

Rather than specialized staff members executing one-off, resource-intensive "improvement projects," practicing the Kata helps every member of an organization become skilled in seeking improvement every day.

The steps of the Improvement Kata pattern are carried out by the Improver who systematically plans, establishes target conditions, and then conducts experiments (PDCA) to work through obstacles and learn from them in the process of improving. The Improver is supported by a Kata Coach who teaches them by conducting Coaching Cycles using the Five Questions of the Coaching Kata

Let's talk about how you can use Kata to level up for yourself and your company. Click here to schedule a quick call. I look forward to talking with you!