I've long been a fan of conferences, seminars, and other networking events as a mechanism for reigniting the fire in my work. Although the field I'm currently spending much of my time in falls outside of my specific areas of marketing and writing expertise, last year I had an experience that jump-started my idea-machine just the same—KATACON.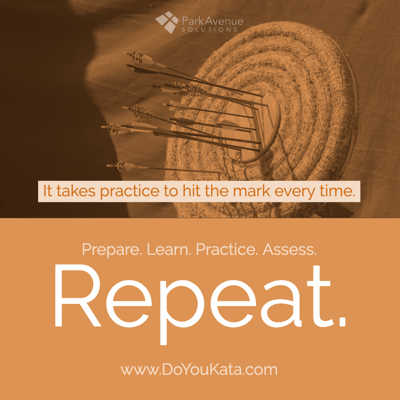 For the Kata-newbies like me, Kata is a problem-solving methodology. Based on Mike Rother's in-depth observations of Toyota's highly successful management and production practices, Kata helps practitioners create incremental, continuous improvement by repeating a four-step routine that teaches and facilitates a logical approach to problem-solving. When practiced consistently, Kata builds scientific-thinking skills that will make every learner a better problem-solver. Read more about Kata here.
To quote a description a theKataSummit.com website, a KataCon is, "... more than a conference. It's where the practicing, or soon to be practicing, Kata Community gathers to share what they're learning and the experiments they are running." I'd say that's spot on.
Register for KataCon7 | Virtual "Pajama Pants" Summit, March 15-19
I was fortunate to attend last year's gathering in awesome Austin. The fantastic group of people I met included experienced Kata Geeks—those well-versed and longer-practicing than most—Kata Novices—those with little to no knowledge or experience—and everything in between.
With its "niche" focus on Kata, KataCon is smaller than many other operational excellence/continuous improvement events, creating a more close-knit, collegial atmosphere. This created the opportunity to speak to people multiple times, dig into their stories, and enjoy a lot of great in-depth discussions during, between, and after sessions.
Among my favorite sessions from KataCon 6 were:
KataGeek Meetup, an opening day tradition packed full of firsthand Kata updates and experiences from practitioners across multiple industries. It's a fantastic opportunity to hear a lot of quick Kata stories and ideas and get to know people quickly. [This year's KataGeek Meetup is scheduled for March 15 from 3-4:30pm EDT.)
Billy Taylor's Keynote on the importance of deliberate practice.
Deondra Wardelle's talk on using the Improvement Kata to focus and improve results in visioning and goal-setting (both personal and professional).
A phenomenal round-table talk on "Kata for Social Good".
And, especially, Mike Rother and Mike Lombard's "Kata in the Classroom 1 & 2" workshop.
Of course, in the midst of the pandemic, an in-person conference drawing travelers from around the globe became impractical. Never to be daunted, however, Lean Frontiers, organizers of the annual KataCon events, has adapted the annual Kata Summit to Virtual KataCon!

For the first (and they hope, last) time, everyone from the Kata-curious to full-fledged Kata Geeks will gather online to network and learn (and maybe even party a little … I hear tell of some fun giveaways and prizes during the sessions!). Sessions will take place daily March 15-19 and include a variety of fantastic topics! Here are a few that we're especially looking forward to . . .
NYT Bestselling author BJ Fogg is scheduled to open KataCon7 and talk about his book Tiny Habits (look for parallels to practicing the Improvement Kata and Coaching Kata).
A talk with Dr. Jeffrey Liker, author of the recently released 2nd edition of The Toyota Way, will talk about connections between Toyota Way and Toyota Kata.
The fabulous Deondra Wardelle is back this year bringing her dynamic personality and passion for Kata as co-emcee of KataCon7 with fellow Kata Geek Tilo Schwartz.
And, of course, our resident Park Avenue Solutions' KataGeek Leigh Ann Schildmeier's talk during Thursday's session: Strive Fore 5: Coach as Learner. Leigh Ann will share her story as a Kata Coach who worked with her own Kata Coaches to improve both her golf swing and her Kata coaching skills.
Kudos to Lean Frontiers for adapting to current conditions and planning what looks to be a fantastic "Pajama Pants" Summit! We hope you'll join us. KataCon starts March 15, so sign up soon, so if you haven't already, CLICK HERE to sign up for KataCon7.