UPDATED: Additional #RootCauseRacism post links added.
Although #COVID-19 may be the over-arching theme of 2020, #racism has been catapulted back into our collective awareness. With #BLM, protests, 24/7 news coverage, and numerous articles, books, documentaries, and discussions at the forefront right now, finding a logical, cohesive starting point for learning about systemic racism can seem impossible. We humbly suggest this one: #RootCauseRacism
https://www.leanblog.org/category/blog/rootcauseracism/

Starting last Friday, August 7 and running through this Friday, August 14, Mark Graban has handed over his valuable real estate at leanblog.org to fellow lean practitioner and amazing communicator Deondra R. Wardelle. #RootCauseRacism is the amazing result.
This collaboration between Mark and Deondra (and others who accepted her invitation to participate) includes many blog posts, a podcast, and will culminate with a webinar and panel discussion on Friday, August 14th. (Register here)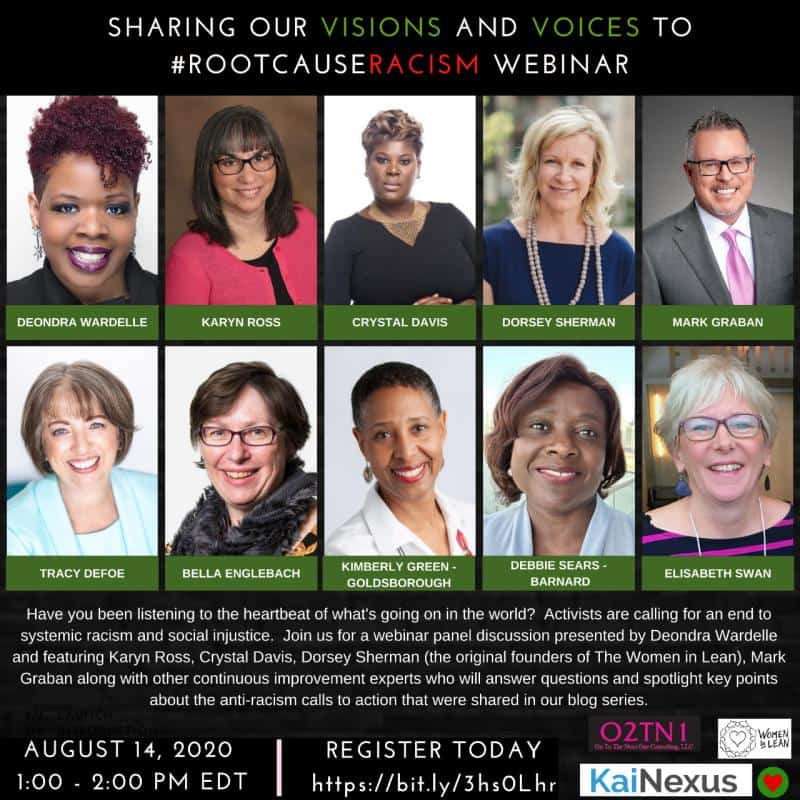 Deondra accepted the challenge from Mark to use his highly visible platform to amplify her voice in this vital discussion. She has not only shared her own story but has recruited a team of thought leaders from her professional circle to share specific, actionable countermeasures to institutional racism.
As she explains in her introduction to the series, "Our blog series will give you a tool kit of practical ideas and countermeasures that will make positive difference in your community, at home, or at work. During the week, you'll receive insight from a team of phenomenal women who'll share their visions and voices on topics such as:
Community & Individual Activism – Sunday, August 9th




Business & Corporate Responsibility – Monday, August 10th

Education – Tuesday, August 11th

Healthcare – Wednesday, August 12th

Government – Thursday, August 13th

The Arts – Friday, August 14th
You'll get a different and unique perspective as you read each blog. You'll be equipped with a list of tangible action steps that can be used and applied immediately. You'll be challenged to try some of the ideas that are shared each day.
Through our individual and collective efforts, we will create a better world – one without systemic racism. Please access our insightful blogs at leanblog.org/rcr."
This first installment of the #RootCauseRacism project is already well underway with a number of blogs and a podcast published. Click the link above to get the series page on Lean Blog or click the links below for specific posts already published (as of today, August 11):
We'll keep adding to the list as new blogs are published through August 14, or you can access them on the #RootCauseRacism page at leanblog.org. Don't forget to sign up for the #RootCauseRacism discussion on Friday, August 14th at 1PM Eastern. We are better together!
#rootcauseracism #bloghandover #wecandobetter